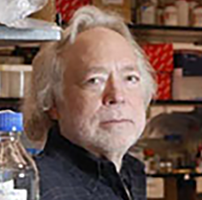 Michael
Gould
Professor
(608) 263-6615
Training Programs
Research Description
Our group is interested in the genetic and epigenetic origins of breast cancer. We are interested then in translating these ideas to develop drugs to prevent and treat breast cancer. We use comparative genomics discover loci that modulate the risk of breast cancer in rodents and humans. Most of these are found in non-coding regions of the genome. Many of these are found in gene deserts far away from the genes of interest. We find that many of these loci contain enhancers or suppressors which loop to the promoter or first introns of genes which control susceptibility. We study DNA looping in this context as well as epigenetic changes at the looping regions. Findings from these studies lead to drug development for the prevention and treatment of breast cancer. The first of these is now undergoing clinical trials. We are also interested in gene X environmental interactions at both the epigenetic and genetic level. Identifying environmental agents which change the epigenome in a way that promotes cancer provides a away of removing these compounds from the environment in a primary prevention effort. We were also interested in developing novel animal models and new physical methods to foster this research program.
Selected Publications
• Henning AN, Haag JD, Smits BM, Gould MN. The Non-coding Mammary Carcinoma Susceptibility Locus, Mcs5c, Regulates Pappa Expression via Age-Specific Chromatin Folding and Allele-Dependent DNA Methylation. PLoS Genet. 2016 Aug 18;12(8):e1006261. doi: 10.1371/journal.pgen.1006261. eCollection 2016 Aug. PubMed PMID: 27537370; PubMed Central PMCID: PMC4990333.
• Zumwalde NA, Haag JD, Sharma D, Mirrielees JA, Wilke LG, Gould MN, Gumperz JE. Analysis of Immune Cells from Human Mammary Ductal Epithelial Organoids Reveals Vδ2+ T Cells That Efficiently Target Breast Carcinoma Cells in the Presence of Bisphosphonate. Cancer Prev Res (Phila). 2016 Apr;9(4):305-16. doi: 10.1158/1940-6207.CAPR-15-0370-T. Epub 2016 Jan 25. PubMed PMID: 26811335; PubMed Central PMCID: PMC4818696.